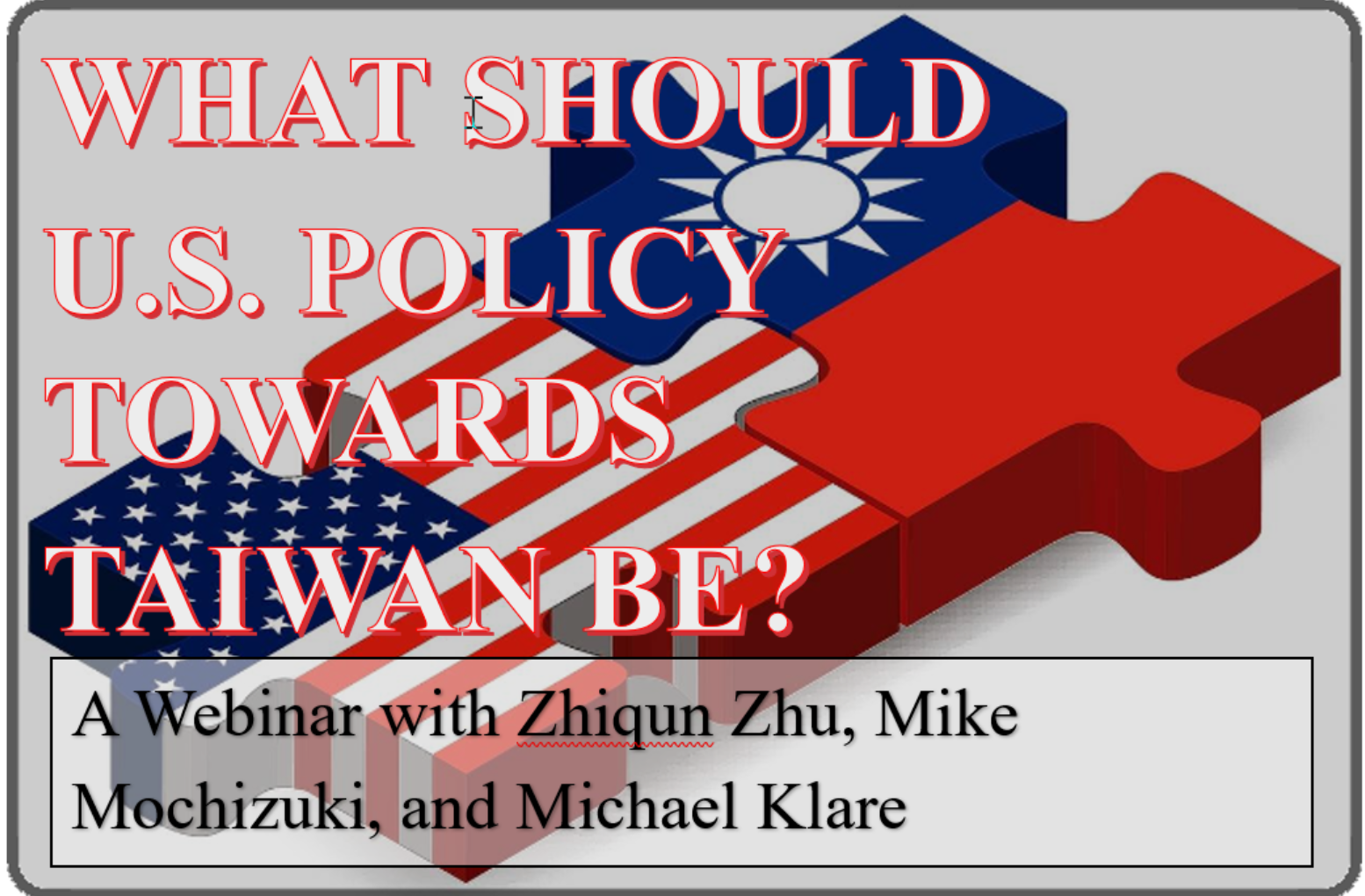 What should U.S. policy towards Taiwan be?
A Panel Discussion with Zhiqun Zhu, Mike Mochizuki, and Michael Klare
What should U.S. policy toward Taiwan be? Can U.S.-Chinese military operations and tensions over Taiwan be defused? If so, how?
With the U.S. and China engaged in provocative military operations in and near Taiwan or miscalculation could trigger a catastrophic U.S.-Chinese war, very possibly nuclear, in which other nations, including Japan and South Korea, would be involved.
The Biden Administration and a confrontational Congress have undermined the "One China" policy which since 1979 has served as the foundation of U.S.- China relations since 1979. The planned visit of Taiwanese President Tsai to the United States in late March and early April is certain to further exacerbate U.S.-Chinese tensions. Meanwhile, in closing China's National People's Congress earlier this month, President Xi Jinping stressed the need for "national reunification" with Taiwan as the "essence of national rejuvenation," making Taiwan's relationship with China a primary issue for his third term in office.
Other ways are possible. Join China scholars Zhiqun Zhu, Mike Mochizuki, and Michael Klare in exploring alternative U.S. policies that we can press on Congress and the Biden Administration.
Zhiqun Zhu is Professor of Political Science and International Relations at Bucknell University. He was inaugural Director of the China Institute, and MacArthur Chair in East Asian politics. Dr. Zhu is a member of the National Committee on United States-China Relations and is frequently quoted by U.S. and international media on Chinese and Asian affairs. He is a member of the Cttee. for a Sane U.S.-China Policy's steering committee.
Mike Mochizuki is the Japan-U.S. Relations Chair in Memory at the Elliott School of International Affairs at George Washington University. Dr. Mochizuki was director of the Sigur Center for Asian Studies from 2001 to 2005. He co-directs the "Memory and Reconciliation in the Asia-Pacific" research and policy project of the Sigur Center. Previously, he was a Senior Fellow at the Brookings Institution.
Michael Klare is professor emeritus of peace and world- security studies at Hampshire College, Co-Chair of the Committee for a Sane U.S.-China Policy, The Nation's defense correspondent, and senior visiting fellow at the Arms Control Association in Washington, D.C. He is the author of 15 books, including most recently, All Hell Breaking Loose: The Pentagon's Perspective on Climate Change.